On – 11 Jan, 2018 By Adam Fromal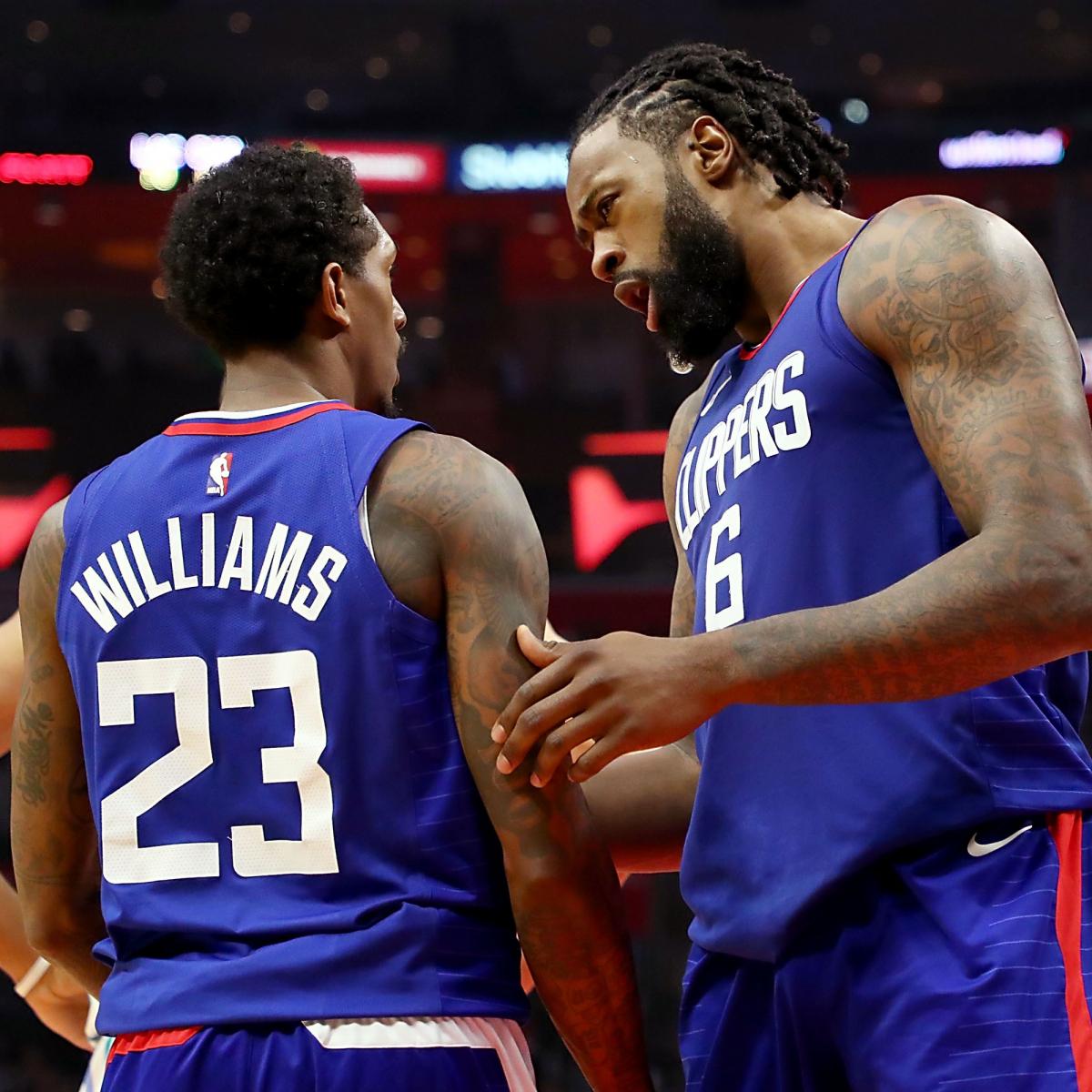 It's the most* wonderful time of the NBA calendar.
Rumors are flying around for all 30 teams. Some squads are attempting to sell off key pieces and expand their list of future assets, while others are looking to acquire the missing piece that will make them more competitive in the race for a playoff appearance, home-court advantage or a title.
Information travels fast, but not quickly enough to outpace new developments. Keep your head on a swivel during trade season, ready to absorb new speculation and insight from all directions.
But for the time being, we'll help you get ahead of the curve with these predictions that are sure to come true** by Feb. 8.
*Fine, this is hyperbolic. The playoffs, opening night and the heart of the offseason are all more fun. 
**They probably won't come true. 
DeAndre Jordan to the Milwaukee Bucks
The Los Angeles Clippers can pretend they're going to remain in the Western Conference playoff race all they want, but they'll eventually have to face reality. Even with a healthy Blake Griffin in the lineup (something that's getting tougher to bet on as the season progresses), they're not going to climb out of the early hole.
Yes, they sit at No. 9 in their half of the NBA despite fighting through countless injuries. They also don't have the combination of star power and usable depth necessary to chase down the New Orleans Pelicans, Denver Nuggets and Oklahoma City Thunder.
Plus, DeAndre Jordan's free agency is looming.
"Spare a thought for DJ: He loves Los Angeles, but the Clippers… OK, 'hates' is a bit much, but the ebullience that used to characterize his game is gone," Chris Ryan wrote for The Ringer. "He is still a double-double machine, but it feels perfunctory rather than emphatic and domineering."
Could Jordan end up with the Cleveland Cavaliers? Sure, though they shouldn't be tempted into including the Brooklyn Nets' first-rounder for his services. And that makes the Milwaukee Bucks the most likely landing spot, since they can cobble together a package of intriguing youngsters from a group that includes Jabari Parker, Thon Maker, Malcolm Brogdon and more.
The Bucks have already shown they're willing to play for the present by acquiring Eric Bledsoe, and they shouldn't stop making moves now. Pairing Giannis Antetokounmpo and the stellar point guard with a dominant rim-runner who doubles as a stifling defensive presence could lead to a lot of noise in the playoffs.
Lou Williams Joins a Contender
Predicting which playoff-contending squad will get its mitts on Lou Williams is a tricky proposition, though the fun bet would be on the Philadelphia 76ers bringing him back after a six-year separation. The far easier prognostication is that the Los Angeles Clippers will turn him into a first-round pick (and an expiring deal) from someone.
Williams is in the midst of a staggeringly effective offensive season, averaging 22.2 points and 4.9 assists (both career highs) while shooting 44.4 percent from the field, 40.7 percent from downtown and 90.3 percent from the charity stripe. Everything is clicking, and that's turned him into a dark-horse contender for one of the Western Conference's All-Star berths.
This isn't just a function of per-game stats and shooting percentages, either; all-encompassing metrics indicate astronomical levels of value on the scoring end.
ESPN.com's offensive real plus/minus has Williams lagging behind only nine players, while NBA Math's offensive points added, which accounts for both per-possession success and volume, has him at No. 9, trailing just James Harden, LeBron James, Stephen Curry, Kyrie Irving, Giannis Antetokounmpo, Russell Westbrook, Jimmy Butler and Damian Lillard.
Yes, Williams is 31 years old. His contract expires at the end of the season.
But someone—whether the Sixers or another offense-hungry organization—is going to pay the necessary asking price for a half season of this monumental production.
Memphis Grizzlies Plunge into a Rebuild
How are the Memphis Grizzlies supposed to reload? Though they're dropping games at a frequent rate and sit at No. 15 in the Western Conference standings, they're going to have significant trouble going through a full-scale rebuild without selling off some key pieces.
Not only are they down a 2019 first-round pick, but their roster is largely old and expensive, making it tougher for them to lure in any big-name free agents (if they can even convince them to attend meetings in the first place). That's not a promising combination during a rebuilding period, which places even more emphasis on scanning the trade market for useful assets.
Dealing away Tyreke Evans in his breakout season is an easy decision. Memphis doesn't control his Bird rights and would have a tough time affording him—or even convincing him to come back to a down-in-the-dumps roster—this summer. Shop him around and see if you can land a first-round pick.
Trading Marc Gasol is the tougher call.
The 32-year-old center clearly isn't the same player, slowing down a few steps on defense and struggling to exhibit many consistent offensive skills. But he remains the face of the organization, utterly beloved by the Memphis fanbase after so many years of top-level play and effort.
Nonetheless, moving him is the right decision. Someone will reload the Grizzlies' coffers with intriguing youngsters and draft picks for the big man's services, and weakening the roster also helps Memphis remain near the bottom of the standings and earn a better pick in the (likely) star-studded 2018 NBA draft once Mike Conley returns.
Sometimes the right decisions are painful, and Memphis should realize it doesn't have any other high-quality choices now that it's firmly outside the playoff picture.
DeMarcus Cousins Stays with the New Orleans Pelicans
"So far, New Orleans is determined to re-sign center DeMarcus Cousins and hasn't invited trade offers on him," Adrian Wojnarowski reported Monday for ESPN.com.
That's not going to change.
The New Orleans Pelicans are in the hunt for one of the Western Conference's eight playoff spots, and DeMarcus Cousins has served as an integral piece of that process. His effort can sometimes be…lacking, and his defense isn't exactly consistent. But the center is still averaging 25.8 points, 12.5 rebounds and 5.1 assists while slashing 48.2/35.3/75.5.
Even more importantly, the Pelicans are experiencing success when he's on the floor.
Wait, that's not quite true? New Orleans' net rating actually rises by 1.0 points per 100 possessions when Cousins is on the bench, even though he shares the court with Anthony Davis and Jrue Holiday for so much of his run? That makes this argument significantly tougher…
Still, New Orleans isn't likely to give up on this season with an above-.500 record and a distinct chance to end a brief playoff drought. And trading Cousins, especially after giving up a marquee prospect (Buddy Hield) to acquire his services in the first place, would feel like an admission of defeat, given the team's lack of worthwhile depth.
The Pelicans remain more likely to become buyers than sellers, no matter what the on/off numbers may claim.
Nikola Mirotic to the Detroit Pistons
According to a report from K.C. Johnson of the Chicago Tribune, the Detroit Pistons and Utah Jazz are the leading suitors for Nikola Mirotic, while the Portland Trail Blazers could eventually get into the mix. The Montenegrin power forward would be an intriguing fit in all three locations, but the Motor City should be considered his most likely destination.
Have you ever heard in previous years that the Pistons could use more three-point shooting? Well, that remains true. They rank fifth in percentage from beyond the arc, but 17 teams are taking long-range looks more frequently. One more sniper would go a long way, and that's exactly what Mirotic has served as since returning from a fractured face, connecting on 46.5 percent of his treys while lofting up 5.9 per game.
Of course, Mirotic provides more than perimeter shooting. He remains an underrated defender and is having the best board-crashing season of his career, allowing him to fill a more vital role as something beyond just a complementary option off the bench.
Should Detroit trade for him and push him into the starting five alongside Andre Drummond, Tobias Harris, Avery Bradley and whichever point guard is healthy, Mirotic would provide plenty of spacing for the go-to offensive threats. But he could also lead a bench unit, which would likely be even more beneficial. During the first half of the season, the Pistons' second-stringers have played to a 101.8 offensive rating (No. 24 among all teams' non-starters).
Detroit still isn't a playoff lock. But shipping Stanley Johnson, Jon Leuer and a protected 2018 first-round pick to the Bulls for Jerian Grant and Mirotic could move them into that category.
Cleveland Cavaliers Don't Hold On to the Brooklyn Nets Pick
See that man in the picture? That's LeBron James. You might have heard his name before.
Well, he's been forced into doing quite a bit of heavy lifting this season.
That should be obvious enough from watching him play or looking at his per-game stat line, but allow us to use NBA Math's TPA metric to show just how much of the production he's been responsible for on both ends of the floor combined.
James' TPA stands at a league-leading 307.64 at this stage of the season—absolutely ridiculous for a man in his 15th professional campaign. But the Cleveland Cavaliers' second-best score belongs to Kevin Love, who sits down at No. 70 overall with a score of 27.45. No other member of this roster boasts a positive score, and James' entire supporting cast has combined for minus-251.56 TPA.
From a purely objective standpoint (and not factoring in style or role), it's almost like James is playing alongside Josh Jackson (minus-101.33), Tyler Ulis (minus-102.08), Emmanuel Mudiay (minus-50.74) and a whole bunch of league-average contributors. Need any more convincing that, in spite of the big names littered throughout this organization, the Cavs need to move for another impact player?
Unfortunately for Northeast Ohio, however, Cleveland doesn't have many assets.
If it wants to get a discussion started about DeAndre Jordan, Marc Gasol, Lou Williams, Tyreke Evans or someone else who can provide a significant jolt into the lackluster defense, the Brooklyn Nets' first-round pick will have to be on the table.
And it will be.
Houston Rockets Finally Avoid Making a Trade
The Houston Rockets have a rather lengthy history of making deals between the start of January and the trade deadline. Let's run it back and see how far into the past we have to go before uncovering a move-free swap season:
2017: Traded Tyler Ennis to the Los Angeles Lakers for Marcelo Huertas; traded K.J. McDaniels to the Brooklyn Nets for cash considerations; traded Corey Brewer and a first-round pick to the Los Angeles Lakers for Lou Williams
2016: Traded Maarty Leuenen to the Los Angeles Clippers for Serge Lishchuk and Josh Smith
2015: Traded Alexey Shved and two second-round picks to the New York Knicks for Pablo Prigioni; traded Isaiah Canaan and a second-round pick to the Philadelphia 76ers for K.J. McDaniels
2014: Traded Aaron Brooks to the Denver Nuggets for Jordan Hamilton
2013: Traded Cole Aldrich, Toney Douglas, Patrick Patterson and cash to the Sacramento Kings for Francisco Garcia, Tyler Honeycutt and Thomas Robinson; traded Marcus Morris to the Phoenix Suns for a second-round pick
2012: Traded Jordan Hill to the Los Angeles Lakers for Derek Fisher and a first-round pick; traded Jonny Flynn, Hasheem Thabeet and a second-round pick to the Portland Trail Blazers for Marcus Camby
2011: Traded Shane Battier and Ish Smith to the Memphis Grizzlies for DeMarre Carroll, Hasheem Thabeet and a first-round pick; traded Aaron Brooks to the Phoenix Suns for Goran Dragic and a first-round pick
2010: In a three-team deal with the Sacramento Kings and New York Knicks, traded Joey Dorsey, Carl Landry and Tracy McGrady for Hilton Armstrong, Jordan Hill, Jared Jeffries, Kevin Martin and a first-round pick
2009: In a three-team deal with the Orlando Magic and Memphis Grizzlies, traded Rafer Alston for Brian Cook and Kyle Lowry
2008: Traded Kirk Snyder and a second-round pick to the Minnesota Timberwolves for Gerald Green; in a three-team deal with the New Orleans Hornets and Memphis Grizzlies, traded Malick Badiane, Mike James and Bonzi Wells for Bobby Jackson, Adam Haluska, Sergei Lishouk and a second-round pick
And that's enough. You get the point. Plus, general manager Daryl Morey wasn't in charge for any prior trade deadlines, leaving little point in going back any further. But to satiate any enduring curiosity, the Rockets have made a deal during the relevant time frame every year since 2003.
That history makes this a bold prediction, but Morey himself is backing it up.
"I don't expect to do much," he said, per Jonathan Feigen of the Houston Chronicle. "There's outside-the-rotation stuff potentially. We're always looking for something to upgrade us. I would guess the odds of us doing nothing are much higher than normal."
Considering this is the deepest team Houston has fielded in quite some time—with plenty of star power at the top of the rotation—that's the proper stance.
Toronto Raptors Are the Best Eastern Conference Team to Stand Pat
Yes, this is a sneaky way of combining two predictions into one.
We've already claimed the Cleveland Cavaliers wound wind up parting with the first-round pick given to them by the Brooklyn Nets. But the Toronto Raptors aren't inarguably the best or second-best team in the Eastern Conference, since they're still looking up at the Boston Celtics in the current standings.
Now, what the Celtics will do remains entirely uncertain. Danny Ainge is notoriously inscrutable and happy to make deals.
But losing some of their early-season momentum makes them a prime candidate to go after a bargain on the trade market. Players like Nerlens Noel, Lou Williams, Ersan Ilyasova and Tyreke Evans could all tempt them into parting with some of their many assets, and doing so wouldn't actually be that painful. First-round picks are always valuable, but less so to a team with a fully fleshed-out rotation and plenty of young talent already developing under organizational control.
And that leaves the Raptors.
They could move on from Jonas Valanciunas and take a swing at DeAndre Jordan or Marc Gasol. But the chemistry of this team works, and everyone is thriving. The starters excel alongside Kyle Lowry and DeMar DeRozan, while the bench unit is experiencing plenty of success. Delon Wright, Jakob Poeltl, Lucas Nogueira, Pascal Siakam and others might not be household names, but they've helped the Toronto bench earn a 6.4 net rating, which trails only the Houston Rockets and Golden State Warriors.
When the efforts are predicated upon chemistry within a pace-and-space system, shaking things up at midseason isn't an ideal route.
Denver Nuggets Finally Move for a Point Guard
The Denver Nuggets were supposed to go after Kyrie Irving when the Cleveland Cavaliers put him on the block. Nope.
They were supposed to try signing Jeff Teague or George Hill during this past offseason, assuming they couldn't get their hands on a floor general of Kyle Lowry's caliber. Nope.
They were supposed to call the Phoenix Suns and work out a deal for Eric Bledsoe when the disgruntled point guard made it clear he wanted to leave the desert. Nope.
So here they are, still operating with the uninspiring duo of Jamal Murray and Emmanuel Mudiay. While the former has shown significant growth on the offensive end, he's still not a primary facilitator and goes through cold shooting stretches, leaving him ill-prepared to serve as the starting 1 on a playoff lock. A move might still be necessary.
The Nuggets could hold tight and hope for continued growth from their youngsters. They could also make a play for a veteran in free agency or on the buyout market. But their best bet is contacting the Sacramento Kings and hoping the downtrodden organization is willing to sell low on their disappointing free-agent signee.
Just imagine what this team would look like with Hill, Gary Harris, Wilson Chandler, Mason Plumlee and Nikola Jokic in the starting five while Murray leads the charge for the second unit. That's a distinct possibility if Sacramento is willing to accept a package built around Mudiay, Darrell Arthur, Kenneth Faried and a protected first-round pick.
So. Much. Action.
From the second half of January through the 2017 trade deadline, we saw 16 different deals involving 19 of the NBA's 30 organizations. One year earlier, the league engaged in 10 unique trades between 17 different teams during the same time frame.
This year, those numbers should look small. NBA Commissioner Adam Silver is going to be a busy man as he approves one deal after another.
More so than in previous seasons, when the Cleveland Cavaliers were quite obviously the toast of the Eastern Conference and the Golden State Warriors were chasing records, each conference feels competitive. The Houston Rockets should have inspired teams out West to feel confident they too can join the class of elites. The Cavs, meanwhile, have the East's third-best record and aren't even a lock for home-court advantage in the first round.
Plus, the back end of the playoff picture is all topsy-turvy. Ten teams should still feel like they have a shot in what's traditionally been the league's tougher half, while even the Charlotte Hornets and Brooklyn Nets (down at Nos. 11 and 12, respectively) might not feel too far out of contention for a top-eight finish.
Expect plenty of deals, both involving stars and swaps that shore up the ends of rotations for competitive squads.
Source:  https://bleacherreport.com/articles/2753411-10-early-nba-trade-deadline-predictions