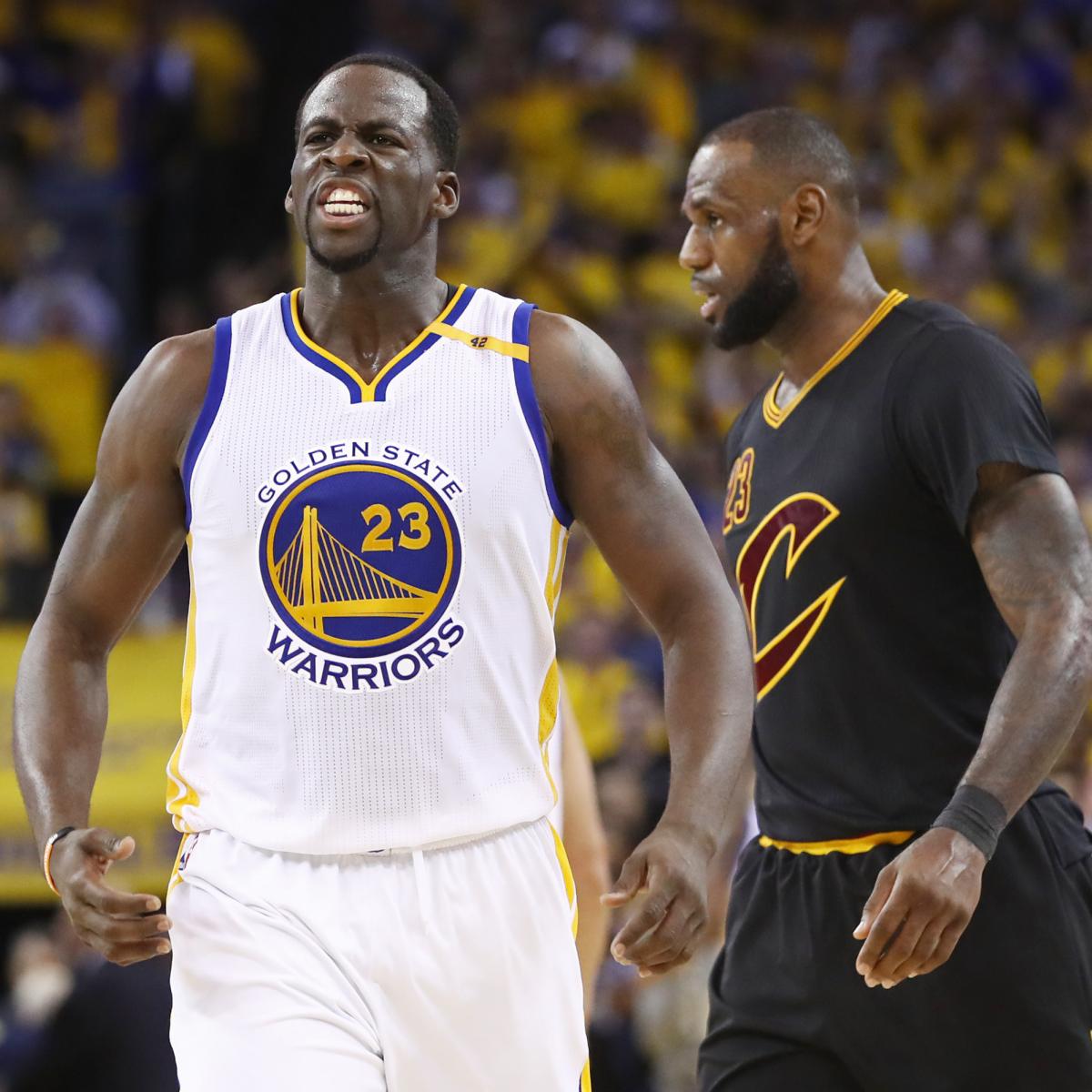 It's that time of year, folks. Fall is in the air, and far more importantly, basketballs and sneakers are once again hitting the professional hardwood.
While the 2017-18 NBA season is still a week away for most teams, it's never too soon to start making predictions. Bleacher Report gathered some of its best basketball brainpower to help figure out which players will take home the league's most prestigious pieces of individual hardware.
Can Russell Westbrook defend his MVP title, or will an oft-forgotten favorite claim the Maurice Podoloff Trophy? Will Lonzo Ball live up to the hype with a Rookie of the Year campaign, or will another fresh-faced prospect from the stacked 2017 class steal that honor?
B/R's experts offer their thoughts on these topics and more, and just like you, they're ready for a new season to tip off with one heck of a summer officially in the rearview mirror.
Rookie of the Year: Dennis Smith Jr.
Dennis Smith Jr. will win Rookie of the Year. None of the real contenders will play for winners, including Ben Simmons and Lonzo Ball, which takes team records out of the equation.
As they usually do, individual stats will play the biggest role in determining who gets the award. And Smith is going to produce. He may have his fair share of inefficient outings, but his ability to score from all three levels should carry over based on his skill level and athleticism.
Seth Curry is sidelined indefinitely with a stress reaction in his right leg, according to Marc Stein of the New York Times, which should mean even more shots for Smith. That'll enable the explosive point guard to average more points than Ball and Simmons.
As long as Smith can hang with Simmons and Ball in terms of assists, he'll earn the most votes.
—Jonathan Wasserman
Sixth Man of the Year: Lou Williams
In the age of the superteam, the role of sixth man has lost some of its panache—at least in its traditional sense. Previously, this award was often handed to the league's top bench scorer. Now, though, the NBA's best teams all boast multiple studs. You don't need a guard to come in and drop 15 points in 25 minutes if you always have a top-10 player on the floor.
It'd be cool if this award recognized the new ecosystem, giving do-it-all role players like PJ Tucker, Patrick Patterson or even Andre Iguodala a shot at taking home the hardware.
Perhaps one day. This season, though, the Sixth Man of the Year award most likely will end up being hoisted by the league's most prolific off-the-bench scorer.
Chris Paul's presence in Houston means the Rockets will no longer rely so heavily on the creativity of last year's winner, Eric Gordon. Paul's absence in Los Angeles means the Clippers will need more backcourt scoring. Enter Lou Williams, the 2017-18 Sixth Man of the Year.
—Yaron Weitzman
Most Improved Player: Jusuf Nurkic
What Jusuf Nurkic did after a midseason move was not a fluke.
To recap, he struggled to fit in with the Denver Nuggets and proved supersized frontcourt pairings comprised of himself and Nikola Jokic couldn't work, dooming him to a minuscule role off the pine. But after a trade to the Portland Trail Blazers (and prior to a leg fracture that ended the momentum), he averaged a whopping 15.2 points, 10.4 rebounds and 3.2 assists while shooting 50.8 percent from the field. Most importantly, he showed an entirely different mentality.
Gone were the days in which he'd lollygag up and down the floor; he actually looked engaged on both ends and didn't hesitate to serve as an interior protector. Additionally, he displayed a willingness to distribute the rock with his touches—maybe a byproduct of increased run and the extra touches that inherently come along with it?—and flashed passing chops that had remained dormant in the Mile High City.
He now enters a soon-to-be breakout campaign as the entrenched starting center, a player capable of lifting the Blazers ahead of the pack contending for back-end playoff spots in the Western Conference. He'll get to prove this growth was sustainable and that he's ready to become not just a starter, but an upper-tier starter at his position. The role, impact and numbers will all be there, ready and waiting for award season.
—Adam Fromal
Defensive Player of the Year: Draymond Green
Like last year, there's a good chance Rudy Gobert finishes with better defensive statistics than anyone else. He could again lead the league in ESPN's Defensive Real Plus-Minus while limiting opponents to a 48.9 percent conversion rate at the rim (the second-lowest figure of anyone who defended at least 200 shots within six feet).
But as long as Draymond Green's statistical production is close to Gobert's—it was in 2016-17, and it should be this year as well—the award is Green's to lose. His team will be better and more visible than Gobert's small-market outfit. His brand of defense will be impossible to ignore for a significantly larger number of viewers/voters.
Nobody switches across five positions as effectively as the Golden State Warriors' nominal power forward. Nobody summons the same every-possession feral intensity while also calculating angles and rotations like some kind of spatial-reasoning savant. Green defends like a Tasmanian devil who attended Oxford on a chess scholarship; he out-thinks you while simultaneously trying to gnaw off your appendages.
No defender makes a bigger across-the-board impact as conspicuously as Green, who'll become the ninth DPOY to go back-to-back since the award came into existence in the 1982-83 season.
—Grant Hughes
Coach of the Year: Gregg Popovich
Gregg Popovich isn't the sexy pick for Coach of the Year because he's never the sexy pick. He has three of these bad boys to his name, and the Spurs are perennial giant-slayers. His candidacy is forever plagued by LeBron James-level voter fatigue.
This time feels different. It is different. The Spurs wrapped up their first puzzling, perhaps damaging, offseason in years. They ended up not getting face-time with Chris Paul, signed 37-year-old Pau Gasol to a baffling three-year, $48 million deal and signed Rudy Gay despite him being on the wrong side of 30 and recovering from an Achilles injury.
To top it all off, Kawhi Leonard actually turned out to be human. A quadriceps injury has kept him off the court throughout the preseason, and one cannot help but wonder whether he'll be ready to rock in time for opening night.
Doubt is starting to creep into the Spurs' outlook, especially since almost every other Western Conference contender spent the summer making wholesale upgrades. If Popovich tallies another 55-plus wins with this squad and guides them within striking distance of the No. 2 seed—if they're again one of the two or three biggest threats to the Warriors' indelible reign—he has to grab his fourth Coach of the Year. Last season was arguably his finest work at the helm, and an adequate encore would represent an even better job.
Yes, this means he and the Spurs will need to deliver that follow-up performance. Looking at the Western Conference landscape and their roster, that's far from a given.
Then again, these are the Spurs. And this is Pop. Brace yourself for another 60-win dalliance.
—Dan Favale
Executive of the Year: Sam Presti
Sam Presti could well have won Executive of the Year last season, when all his team did was win 47 games and secure the sixth seed in the West after Kevin Durant bolted for the Bay Area.
This year, he should get his due.
First of all, ask the Cavs (LeBron James), Magic (Dwight Howard), Hornets (Chris Paul), Nuggets (Carmelo Anthony), Raptors (Chris Bosh), etc., how long it took to recover from the loss of their superstars. Without KD, the Thunder were no longer the elite power that held a 3-1 series lead on the Warriors a year earlier, but they were still a solid playoff team. Name another franchise that could've lost its most important player and still almost won 50 games.
The loss of Durant, and the need to maximize Russell Westbrook's prime years, sent Presti into star-seeking mode. Perhaps nobody in the league understood better how important it's become to have not one, not two, but three stars to compete. He acquired Paul George from the Pacers for a package of Victor Oladipo and Domantas Sabonis (acquired in the Serge Ibaka deal). Then, armed with two superstars and a decade of success, he was able to compel Anthony to waive his no-trade clause and leave New York for the sticks of OKC. That's no small accomplishment, getting a star player who is mesmerized by big markets like no other to voluntarily transplant himself to one of the smallest markets on the NBA map.
Anthony, 33, is on the back end of his prime. But his game will age well, and with Westbrook and George commanding so much attention, he should get more open looks than he's ever seen in his career. If head coach Billy Donovan can make it work, the easiest look in the league will be casting your Executive of the Year vote for Presti.
—Ken Berger
MVP: LeBron James
We—as in the media, fans and the general public who follow the NBA—have become ensnared in a spectacular rhetorical pretzel: "LeBron James is the best basketball player on Earth," we annually reassert, "but (fill in the blank) is the MVP."
We said it last spring, when Russell Westbrook triple-doubled his way to the Most Valuable Player award. We said it the prior two springs, when Stephen Curry claimed back-to-back MVP honors. And we said it the year before that, when Kevin Durant cradled the hardware.
They all earned their accolades. To wit, being the MVP for a single season is not necessarily the same as being the NBA's best all-around player. But yeah, it's an awkward distinction to make year after year.
That trend mercifully ends this season. James, still the game's greatest all-around force, is poised to reunify the Most Valuable and Most Outstanding belts, to reclaim his rightful throne and secure his fifth MVP trophy.
It's not as if the stats aren't there. James averaged 26.4 points, 8.7 assists and 8.6 rebounds last season, with a true shooting percentage of .619. The assists and rebounds were career highs. The true shooting figure was his highest in three years (and far superior to Westbrook's .554).
James will need to be just as dominant this season—perhaps even moreso with Kyrie Irving now in Boston and his surrounding cast in flux. Isaiah Thomas is out until at least January. Dwyane Wade and Derrick Rose can't carry the load. It's up to James to keep the Cavs atop the East, and voters tend to reward singular heroism.
Yes, James will be 33 in December, but he's shown practically no signs of decline.
Yes, the MVP field has never been stronger. But circumstances should favor James.
Durant and Curry will likely split votes, and Westbrook will presumably cede some of the Thunder offense to Paul George and Carmelo Anthony. James Harden is now sharing the burden with Chris Paul. Kawhi Leonard is already hurt, and the Spurs lineup is looking creaky.
Last thought: James slipped in the balloting last season in part because of the Cavs' disappointing record. Now that voters have disregarded the importance of winning—by honoring Westbrook, whose team went 47-35 and finished sixth in the West—perhaps James' singular excellence will again carry the day.
—Howard Beck
Source: http://bleacherreport.com/articles/2737784-br-nba-experts-predict-each-major-award-for-2017-18-season