On – 10 Aug, 2017 By Yaron Weitzman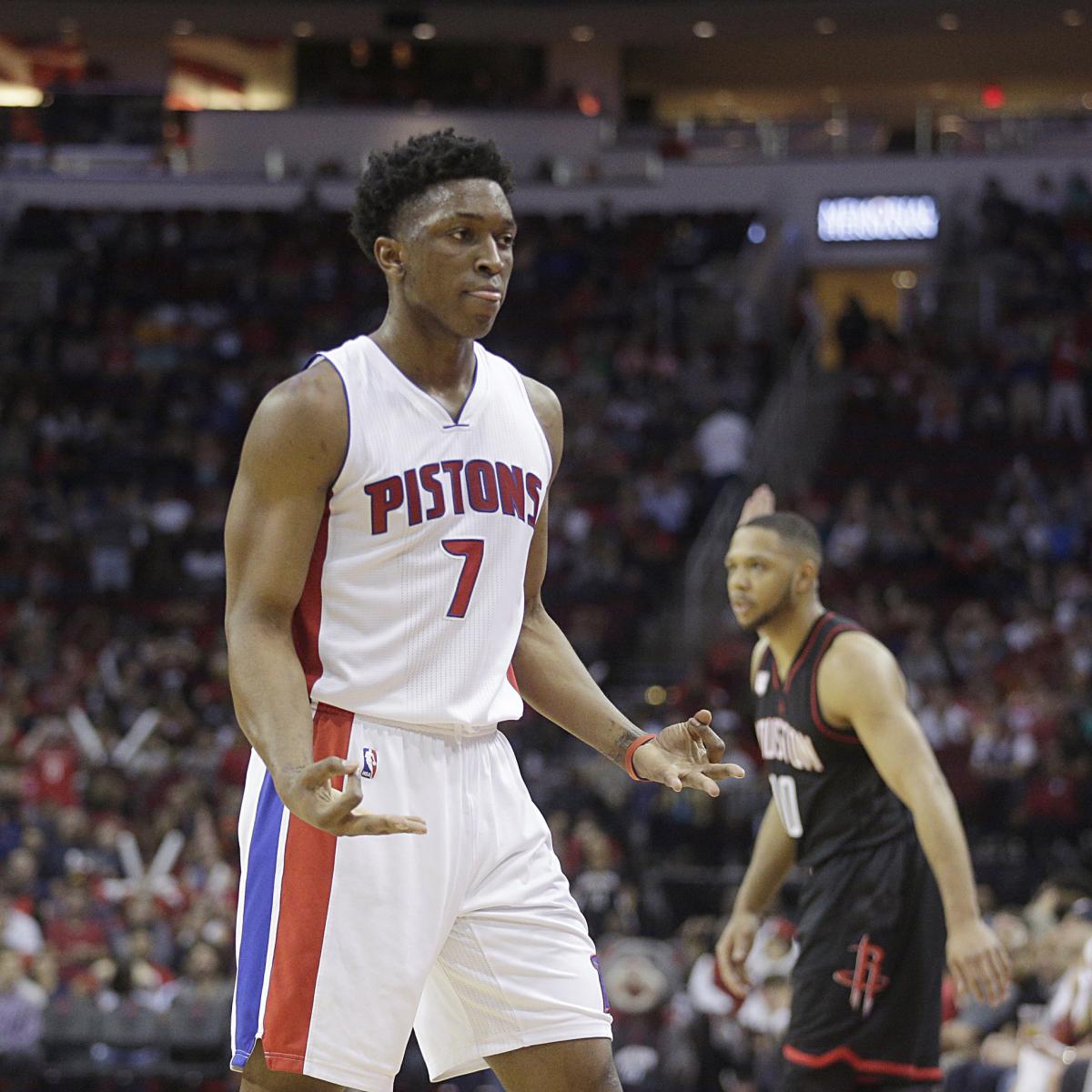 Stanley Johnson stepped into Stan Van Gundy's office and took a seat. It was mid-April, and the Detroit Pistons season had ended just days earlier. Johnson was there to discuss with Van Gundy, the team's coach and president, how he could turn around a career that was quickly drifting into the abyss.
The year had been a failure, for both the team—the Pistons finished 37-45 and missed the playoffs—and Johnson. One could say Johnson's struggles played a role in the team's. He averaged just 4.4 points and 2.5 rebounds per game and was even benched twice. In November, Van Gundy suspended Johnson for a game as punishment for violating team rules (this while the team desperately needed production with Reggie Jackson sidelined because of injury). The two men had butted heads all year and, really, ever since Van Gundy had drafted Johnson eighth overall in 2015.
"We didn't hold anything back," Johnson told Bleacher Report this week over the phone. "That was the first time we had a talk like that. It was really uncomfortable, but real men have conversations. He's just trying to make me better. He doesn't get anything by my struggling again next year."
The back-and-forth went on for a while. Both men, Johnson says, became heated at points. Both men, Johnson says, were blunt.
"I know you can play," Van Gundy said, according to Johnson. "So let's figure things out and make this work."
Three months later, Van Gundy called Johnson to deliver some news. The Pistons had traded Marcus Morris, one of their starting forwards, to the Boston Celtics in exchange for guard Avery Bradley. A rotation spot had opened up, and Van Gundy and the Pistons were relying on Johnson to fill the void.
And so now, as he prepares for his third NBA season, Johnson, who is still just 21 years old, is being handed another shot to prove he was worthy of that lottery tag. (That shot comes with even higher responsibility now that Kentavious Caldwell-Pope has left in free agency.)
As one Eastern Conference scout told Bleacher Report: "The third year is often telling, for wings especially. By the end of that year, you generally are what you are. For him, it will be whether he's willing to accept that he's not a 25 points-per-game scorer."
Is Johnson a two-way force with the size (6'8″, 245 lbs), athleticism and will to lock down multiple positions on defense and create havoc on offense? Or is he a malcontent with a crooked jumper incapable of becoming anything more than an athlete with rare measurables?
For Johnson, the answer is easy.
"If you would have told me two years ago that I'd be averaging four points and three rebounds a game in the NBA, I never would have believed you," he says. "Thing is, the NBA life is not the easiest life to live. Being a professional athlete is an everyday process, and it takes time to learn that.
"I think I have."
Some examples? They are numerous, though Johnson doesn't want to start listing them all. Instead, he offers a summary.
First, there are the relationships with his coaches—that's an area he needs to improve. Same goes for dealing with all the various personalities you find across NBA locker rooms.
Also, it was hard for him, a former high school star who led Mater Dei (Santa Ana, California) to four state titles and then averaged 13.8 points per game during his lone season at Arizona, to learn that everyone in the NBA has an impressive background. Nothing is granted or comes easy.
"I thought at first that being in the NBA was all about basketball," Johnson says. "That there's so much more to it was one of the hardest things for me to learn."
All that being said, Johnson is aware there are numerous on-court adjustments he needs to make as well. Tops on his offseason list? Fixing his jumper.
He knocked down just 29.2 percent of his treys last year and connected on only 35.3 percent of his looks from the field. Defenses now sag off and dare him to shoot, making life more difficult for him and creating spacing issues for the team.
To address that, this summer Johnson invited trainer Charlie Torres, who he's worked with for years, up to the Santa Barbara house he's sharing with Frank Kaminsky and Josh Richardson, also clients of agent Bill Duffy.
At first, Torres was hesitant. He wasn't keen about leaving his family for an extended period. He told Johnson he'd only come if he were serious about improving.
Johnson's response? "I want to work harder than I ever have before."
Together, Torres and Johnson broke down film and fiddled around in the gym. Eventually, they honed in on a few areas that needed addressing. Some were basic, like having Johnson spread his feet wider, square up to the basket on his way up and catch the ball with his shooting palm facing the basket so he could more quickly launch his shot.
Others were more complicated.
Torres, for example, instructed Johnson to cease shooting from an athletic stance. Instead, he wanted him to employ a more relaxed posture, with less bend in his knees so that he could extend his shooting shoulder higher into the air. The goal was for Johnson to fix the flat trajectory of his jumper by mimicking the loose release of Klay Thompson, another Torres client, as best as he could.
The two have also worked on conditioning and ball-handling, the latter something the Eastern Conference scout noted as one of Johnson's weaknesses. "He kind of just puts his head down and goes," he says.
Johnson and Torres have also studied tape of Draymond Green and how he's able to wreak havoc as the screener in pick-and-rolls thanks to his ability to pass, dribble and shoot.
"Offensively, we'd like to see (Johnson) become more efficient by shooting a higher percentage and cutting down on his turnovers," Van Gundy wrote to B/R in an email.
"I see Stanley playing more at the small forward position this year after playing the vast majority of his minutes at the 2-guard spot a year ago. But he's an extremely versatile guy—he can guard big 2s, 3s and even 4s. His versatility is a huge advantage for us."
Van Gundy and Johnson have been in communication all summer. On Friday, Van Gundy flew up to Toronto to pay Johnson a visit. The two men chatted for a few hours, with Van Gundy's checking in on Johnson's progress and sharing with him thoughts on the upcoming season.
That night, Johnson suited up for a game in the OVO Bounce tournament, an annual showcase rapper Drake sponsors. Other professional hoopsters, such as Kaminsky, Cory Joseph, Brady Heslip and Brandon Jennings, participated too.
Johnson got off to a relatively slow start, scoring seven points in the first quarter. But as the game ticked along, he began finding his groove. He drilled one jumper, and then another, and suddenly he was feeling a level of comfort he hadn't in years.
He finished the game with 86 points. He dropped 16 of those during the final 20 seconds of the fourth quarter to help erase a 16-point lead. Johnson's squad wound up winning in overtime.
Less than one week later, Johnson is asked about that performance.
"I feel like if my jump shot is falling, there aren't many people on the planet that can guard me," he says. "A lot of people don't know I can play like that. It was fun to show them."
Source: http://bleacherreport.com/articles/2726643-stanley-johnson-is-humbled-and-hungry-to-improve-in-his-3rd-nba-season